Dresden, Germany – 14th May 2019 – After winning already in 2018, the ALLOS team is particularly proud to have again been voted winner of the CS Award for material and substrates in 2019. This time ALLOS got the award for being the only company offering carbon-doping free GaN-on-Si epi-technology with all needed epiwafer characteristics for high power electronics achieved.
For the second year in a row the GaN-on-Si epiwafer technology specialist ALLOS has won the prestigious Compound Semiconductor Industry Award in the substrates and materials category. This year's nomination was for avoiding C-doping which can help reduce switching losses at high frequencies (dynamic Ron) by reducing electron-trapping effects. While people are facing an unavoidable trade-off between high isolation and good switching performance because of C-doping, ALLOS achieved the breakthrough by using its proprietary technology to grow very high crystal quality GaN-on-Si with industry standard off-the-shelf MOCVD reactors.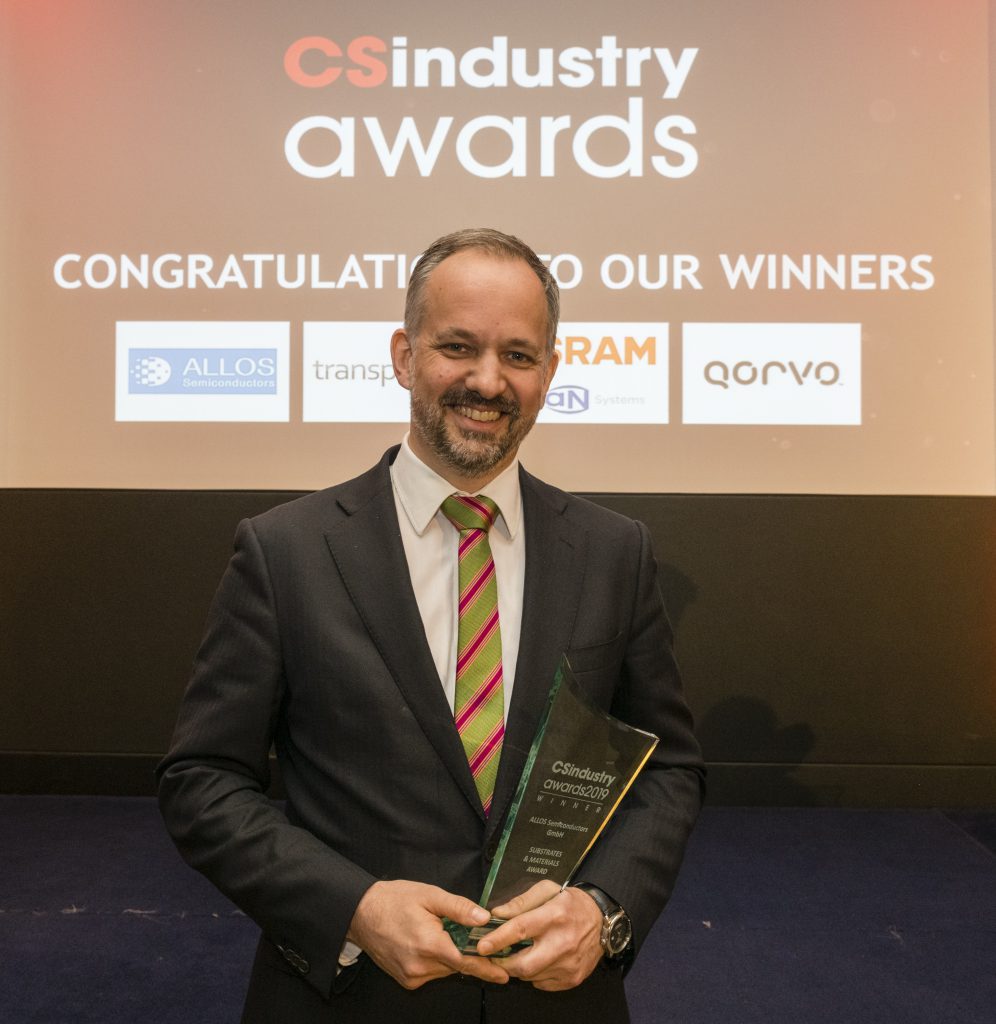 "Receiving this award again fills us with great pride and pushes us forward. We would like to thank everybody who voted for us very much!" comments ALLOS' CMO and co-founder Alexander Loesing. "We have been nominated four times in just five years of business and this is the second title we can take home."
About ALLOS Semiconductors
ALLOS is an IP licensing and technology engineering company which is helping clients from the semiconductor industry worldwide to master GaN-on-Si technology and unleash its benefits. ALLOS is providing licenses to its technology know-how and patents as well as transferring the technology to its customers' MOCVD reactors. In addition, ALLOS is delivering customer specific solutions as well as consulting services for next generation GaN-on-Si development challenges.
For further information about ALLOS' technology, licensing options, for your personal copy of the presentation and enquiries about epiwafer samples, please contact:
ALLOS Semiconductors GmbH
Alexander Loesing
Breitscheidstrasse 78, 01237 Dresden, Germany
Phone: +49-351-212 937-20
Email: alexander.loesing@allos-semiconductors.com