SEMI China invited ALLOS' CEO Burkhard Slischka to talk about market entry strategies into GaN-on-Si for power electronics at this year's CPSIC conference in Nanjing.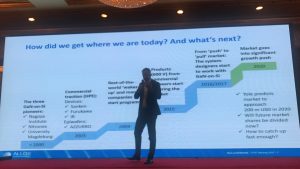 Starting between five to fifteen years ago, about ten pioneering companies have taken the lead in GaN-on-Si for high power electronics (HPE) and have successfully developed the technology. With the introduction of first commercial devices over the last two years this market has finally become a reality. Ambitious companies who now want to follow this leading group have to choose the right strategy for them to develop GaN power electronics successfully.
With ALLOS' team coming from a background of having been in the GaN-on-Si epiwafer supply business before and now being in the GaN-on-Si technology licensing business, Slischka looked at four questions:
Where is GaN-on-Si today?
Who has successfully developed products, and why?
What is the right strategy for fast followers?
Make or buy your GaN-on-Si epiwafers?
You can download a copy of the presentation here.
For more information please contact our sales team at: sales@allos-semiconductors.com or give us a call at: +49-351-212 937-20.